25% OFF - SCAR Forward Accessory Rail - FREE SHIPPING
SCAR Forward Accessory Rail Overview
GG&G had the privilege to be involved with the FNH SCAR family of rifles early on when SOCOM was testing it for adoption. When FNH decided to release the SCAR to the retail public we knew it would be well received. We have designed and manufactured a few Tactical Accessories that enhance the SCAR and your shooting experience.

The SCAR Forward Accessory Rail is one of those accessories. The Forward Accessory Rail not only allows the shooter additional mounting space for accessories forward of the standard forearm. This not only allows the shooter to utilize different hand positions, but also provides room for an integral QD Sling Swivel socket.

SCAR Forward Accessory Rail Specifications:
Will fit SCAR models: MK16, MK17, MK16S and MK17S.
SCAR Forward Accessory Rail is 6 1/16" long to provide additional rail space for lights or lasers.
Extends approximately 2" forward of original factory accessory rail.
Manufactured to MIL-STD-1913 specifications.
The integral Quick Detach sling attachment is located far enough forward so the sling does not interfere with the reciprocating charging handle.
Can be installed on either side to accommodate both right and left handed shooters.
The QD swivel socket has limited rotation built in to prevent sling wrap-up.
All corners have been rounded to protect the shooter.
Can be purchased with GG&G's Enhanced HD 1 1/4" QD swivel, or with our Enhanced Angular QD swivel.
Maintains FN's original spring-lock barrel mounting system.
Rail weighs 2.4 oz without the Enhanced Heavy Duty QD swivel, 3.3 oz with the Enhanced Heavy Duty QD swivel.
Manufactured from tough 6061-T6 billet aluminum and Type III hard coat anodized matte black per MIL-SPEC.
Warranty: Lifetime.
Made In America By Men And Women Proud To Be Americans!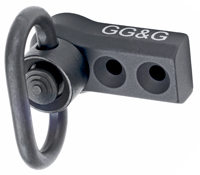 If you need a QD Rear Sling Attachment for your SCAR to go with your Forward Accessory Rail, or you want to use one as a single point sling attachment point, Check Out The GG&G QD Rear Sling Attachment.


Rail Provides Additional Space For Accessories And Has A Provision For QD Sling Attachment