Quick Detach Standard XDS Bipod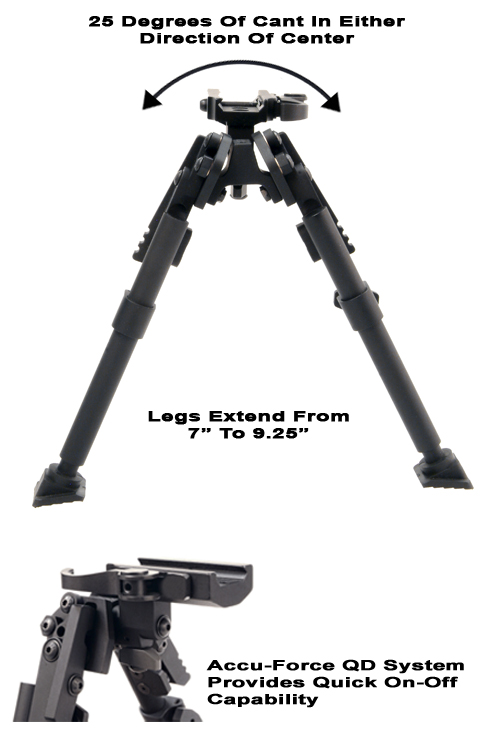 NEED A BIPOD ADAPTER?

CLICK HERE

TO SELECT THE ONE YOU NEED.
THIS BIPOD IS NOT DESIGNED TO TAKE THE RECOIL OF HEAVY CALIBER RIFLES OR CARBINES!!! Refer To This Chart For Specific Caliber Recommendations.
Looking For Interchangeable Feet To Match Changing Terrain? Save 20% Off The Retail Price Of $71.00 When You Purchase The Package With Your Bipod And We Will Install Them For Free!
The Adapter And Feet Included In The Package Are Shown Below. Click Any Image Below To Go To The Terrain Specific Feet Web Page For More Info.
Don't Miss Our Other American Made GG&G Bipods And Related Products! Check Them Out Here!
Quick Detach Standard XDS Bipod:
The QD Bipod features 25 degrees of cant in either direction for rough terrain adjustability.

The Quick Detach XDS Bipod height adjusts from 7" to 9.25" when measured from the bottom of the dovetail to the bottom of the foot pads.

Silent deployment, fully adjustable legs with thumb nut adjustments.

Grip tight foot pads.

Deployed leg can be used as vertical grip. (Attention California Residents: Using a bipod leg as a vertical grip may be an issue. Having a vertical grip on a rifle is one of the features that defines an assault weapon in California. A bipod is not a vertical grip, but using one as such might get you in trouble.)

Tool–less swivel tension adjustment.

All connection points are designed and manufactured for extreme duty.

Manufactured to meet current military requirements for extreme weather and drop tests.

All aluminum components are manufactured from 6061 T-6 aluminum.

Accu-Force QD System provides ergonomic QD lever system for quick and rock solid on-off transitions.

Accu-Force QD Mechanism is fully adjustable to fit worn or our of spec dovetails.

Material: All steel components are manufactured from 4130 steel.

Finish: All aluminum components are Type III hard anodized matte black per mil-spec.

Finish: All steel components are manganese phosphate matte black per mil-spec.

Weight: 13 oz.

Warranty: Lifetime.
Made In America By Men And Women Proud To Be Americans!


Google Base Product Name:
Quick Detach Standard XDS Bipod
A Tactical Bipod That Offers QD Flexibility With Rock Solid Dependability.