SFG-1 Short Vertical Grip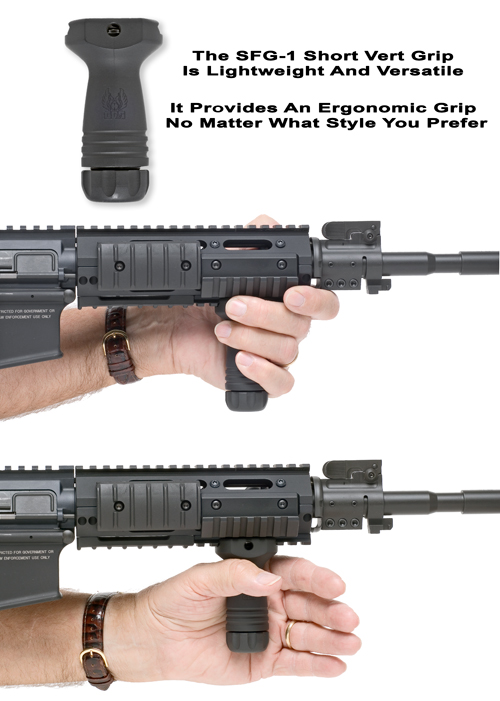 IMPORTANT NOTICE:
This Vertical Grip is not intended to be installed on the "slide arm" or "forearm" of any shotgun! Installing a vertical grip in this manner is extremely dangerous and could cause bodily injury or death!
SFG-1 Short Vertical Grip
A vertical grip for the AR-15 and M-16 has become a valued tactical accessory in military, law enforcement and civilian arenas. It provides the operator with several important advantages, from diminishing muzzle climb during burst-fire sequences to simply offering a more comfortable shooting stance. The Short Vertical Grip like the GG&G SFG-1 has become a very popular alternative to our popular Standard Length Vertical Grip.

SFG-1 Short Vertical Grip Technical Specifications
Low profile ergonomic design without sacrificing functionality.
Perfect for keeping CQB style weapons as compact as possible.
Designed for use with mil-spec-1913 rails.
Ideal for M4 carbines and breeching shotguns.
Excellent for use as a " reference point " or for the " thumb-break " style of shooting.
Provides for a comfortable, secure grasp for outstanding recoil control and ultra fast point-ability.
No tools required for installation or adjustment in the field.
Manufactured from solid black Acetal cold polymer for durability and low heat absorption.
Alignment window to aid in installation.
Lightweight at only 2.8oz.
3 3/16 inches long.
Warranty: Lifetime.
Made In America By Men And Women Proud To Be Americans!


Google Base Product Name:
Short Vertical Grip
Helps Keep CQB Style Weapons As Compact As Possible

.