Mossberg 930 Flashlight Mount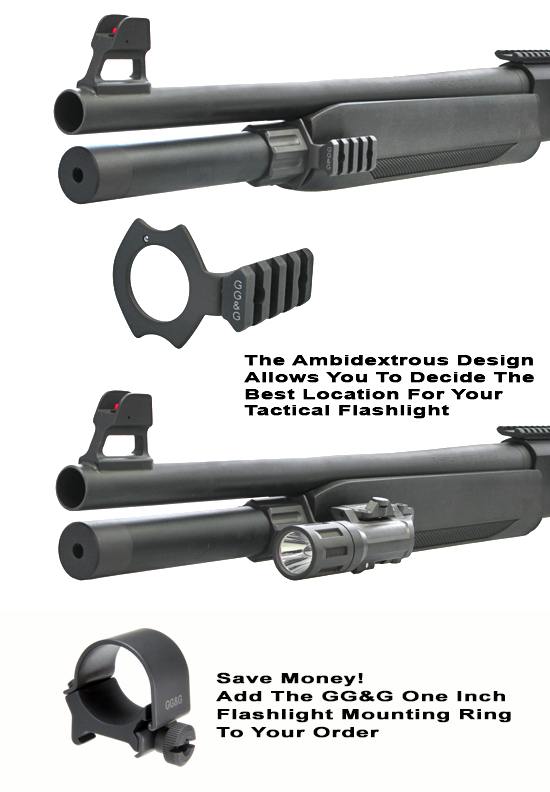 IMPORTANT NOTE: Mossberg has increased the barrel diameter on some of the 930 model shotguns. The GG&G Mossberg 930 Flashlight Mount, GGG-1622R fits the large barrel only! It will not fit the small barrel Mossberg 930 shotguns! Before you purchase this product, please measure your barrel's diameter or circumference at a place ½" in front of the forearm to determine if it is a large barrel. The small diameter barrel when measured with dial calipers is .860" or 2 ¾" in circumference when measured with a tape measure. The large barrel diameter is .925" when measured with dial calipers and 3" in circumference when using a tape measure.
Purchase one of the Mossberg 930 Flashlight Mount/Streamlight Flashlight Packages
above and get a 10% discount on the 930 Flashlight Mount and get Free Shipping on this order!
If you need more info on the Streamlights, click any of the images below.
Don't Miss Our Other American Made Mossberg 930 Accessories And Related Products! Check Them Out Here! Looking for other Mossberg Accessories? Find Them Here!
Flashlight Mount For The Mossberg 930
The unique design of the GG&G Mossberg 930 Flashlight Mount provides an easy way to mount a tactical flashlight on your Mossberg 930 12gauge shotgun.If you need a Mossberg 930 Sling And Light Combo Mount for you 930 Shotgun, Click Here and check ours out.

Flashlight Mount For The Mossberg 930 Product Specifications:
Installs easily.
Great for mounting a tactical flashlight to your Mossberg 930 shotgun.
Ambidextrous Design. Can be mounted on either side of the Mossberg 930 to accommodate both right handed or left handed shooters.
The MIL-STD-1913 accessory rail can be positioned facing forward or rearward.
Manufactured from bullet proof ASTM A36 steel and 6061-T6 billet aluminum.
Steel components are manganese phosphated in a non-reflective combat finish per Mil-Spec.
Aluminum components are Type III hard coat anodized per Mil-Spec.
All edges are smoothed and rounded for the shooter's safety.
Accessory rail measures 1 3/4" long.
Weight: 1.5 oz.
Warranty: Lifetime.
Made In America By Men And Women Proud To Be Americans!
If you need a flashlight for your shotgun, check out the Tactical Flashlights and Mounting Rings Here.


Google Base Product Name:
Mossberg 930 Sling And Flashlight Combo Mount
Purchase Just The GG&G Mossberg 930 Flashlight Mount, Or Check Out The Money Saving Packages. Buy The Mossberg 930 Flashlight Mount And A Streamlight Flashlight Combo Package And Save 10% On the Flashlight Mount ($27.77 vs $30.85) And Get Free Shipping On This Order!