Streamlight PolyTac Flashlight 88850 LED
Streamlight PolyTac 88850 LED Flashlight:
The all-purpose PolyTac LED Flashlight is designed for the broadest range of lighting applications at the best value. It features a superior grip texture for a comfortable but slip-resistant feel, as well as TEN-TAP® Programming that gives users the choice of three operating modes. With its high impact polymer body, the PolyTac is almost indestructible. We have thrown it against the office masonry wall, picked it up and it was still good to go. Not a scientific test by any means, but we think The Streamlight PolyTac LED Light can hold up to the harshest environments.

Streamlight PolyTac LED Flashlight Specifications:
C4® LED technology within a parabolic reflector produces a concentrated beam with optimum peripheral illumination.
The Streamlight Polytac Light 88850 has TEN-TAP® Programming: Choice of three operating modes: 1.) high/strobe/low (factory default); 2.) high only; 3.) low/high: High for bright light:600 lumens; 11,500 candela; 214m beam distance; runs 2.75 hours. Low for when less light is needed and for longer run times: 35 lumens; 675 candela; runs 34 hours. Strobe for disorienting or signaling.
Solid State power regulation provides maximum light output throughout battery life.
The Polytac Flashlight reflector produces a concentrated beam with optimum peripheral illumination — ideal for law enforcement backup light; day-to-day industrial use; maintaining vehicles; general contracting work.
The PolyTac Streamlight is manufactured from high-impact, super-tough nylon polymer for exceptional durability and a superior grip texture to provide a comfortable but slip-resistant feel.
IPX7 rated design; waterproof to 1 meter for 30 minutes.
Impact resistence tested at 3 meters.
Powered by two 3V CR123A lithium batteries. Streamlight Polytacs are always shipped with batteries.
Size: 5.34 in. (13.56 cm).
Weight: 4.20 oz (121 grams) with batteries.
Available in Black.
Limited Lifetime Streamlight Warranty.
This is a top-rate product, but unfortunately Streamlight, an American company, has decided to have this product made in Communist China.

At $47.85 With Free Shipping---It's A Great Value! But you can add the GG&G Flashlight Mounting Ring for only $12.00 for a value package price of just $55.85.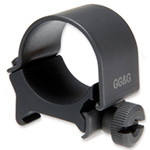 Google Base Product Name:
Streamlight PolyTac LED Flashlight
The PolyTac LED Tactical Flashlight Is Weapons Mountable