Benelli M4 Sling And Flashlight Combo Mount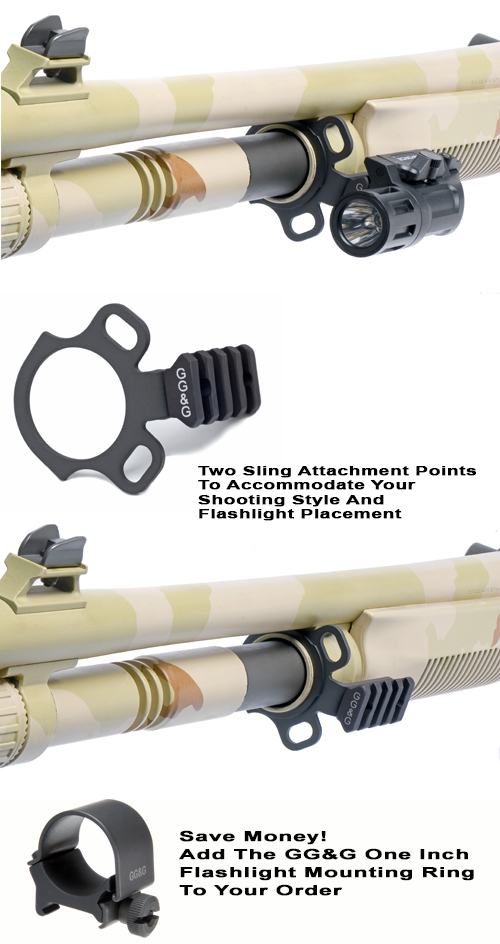 Benelli M4 Sling and Flashlight Combo Mount
The unique design of the GG&G Benelli M4 Sling And Flashlight Combo Mount provides an easy and inexpensive way to mount a tactical flashlight without interfering with the front sling attachment point.
Benelli M4 Sling and Flashlight Combo Mount Specifications:
Installs easily.
Perfect for mounting a tactical flashlight to your Benelli M4 shotgun.
Can be mounted on either side of the Benelli M4 to accommodate both right handed or left handed shooters.
The Benelli M4 Sling And Flashlight Combo Mount provides two sling attachment points: one high position and one low position. This allows for a sling attachment that best accommodates your shooting style and flashlight placement.
The MIL-STD-1913 accessory rail can be positioned facing forward or rearward.
Manufactured from bullet proof AS-35 Geneva steel and 6061-T6 billet aluminum.
Steel components are manganese phosphated in a non-reflective combat finish per Mil-Spec.
Aluminum components are Type III hard coat anodized matte black per Mil-Spec.
All edges are smoothed and rounded for the shooter's safety.
Accessory rail measures 1 3/4" long.
Weight: 1.7 oz.
Warranty: Lifetime.
Made In America By Men And Women Proud To Be Americans!


Google Base Product Name:
Benelli M4 Sling And Flashlight Combo Mount
Easily Combine The Benelli M4 Sling With Your Flashlight