Save 20% AR-15 Tactical Forearm
Ships Free
Direct Handguard Replacement And Simple Installation
Lets You Set Up Your Forearm
The Way You Want It!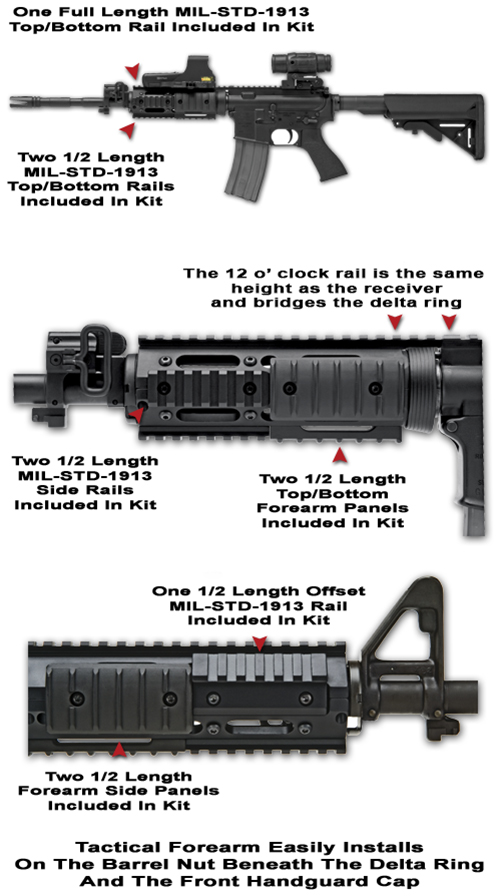 AR-15 Tactical Forearm:
Only 2 Of These Left At This Great Price!
"Maximize product flexibility" is one of our most important company goals. In keeping with that goal, the GG&G Tactical Modular Forearm is the most user accommodating non-free floating tactical forearm mount in the world today. The Tactical Modular Forearm is easily installed on M16/AR15 carbine length barrels including A2 carry handle configurations. All that is required to install this rugged lightweight forearm is the removal of the existing polymer forearm pieces. The two halves of the Tactical Modular Forearm frame are installed beneath the delta ring onto the barrel nut with a rigid attachment method. The front of the forearm is installed under the handguard cap. The innovative attachment method provides a rock solid attachment. The installation does not require removal of the front sight or the muzzle brake. Once installed the AR 15 quad rail system is ready to be outfitted with each AR15 the rail and forearm panel installed in the locations that best suit your accessories,mission requirements and shooting style. The unique design of this forearm and rail system allow the end user to place rails and forearm panels at all twelve clock positions.
AR-15 Tactical Forearm Specifications:
The major components of the GG&G Tactical Modular Forearm are manufactured from 6061 T6 billet aluminum and are hard-coat anodized matte black per mil-spec. The forearm panels are manufactured from solid acetal cold polymer. All tactical handguard attachment points are tough stainless steel helicoils and torx screws.
The AR15 forearm kit comes complete with all mounting hardware and the following components: (1) basic forearm assembly, (1) full and (2) half-top and bottom rails (two) halves placed together make a full rail), (2) half-top and bottom forearm panels (two halves placed together make a full forearm panel), (2) half-side rails, (1) half-offset side rail (ambidextrous design), and (2) half-side forearm panels. The kit also includes a torx wrench. If by chance you need an additional rail or forearm panel, they are available as an option.
If a free floating tactical forearm meets your mission requirements better, click here for all of the information on the GG&G Free Floating Tactical Forearm. It has all of the great features and benefits of our standard AR15 Tactical Forearm.

AR-15 Tactical Forearm