Remington TAC-14 Brace Kit
Save 16%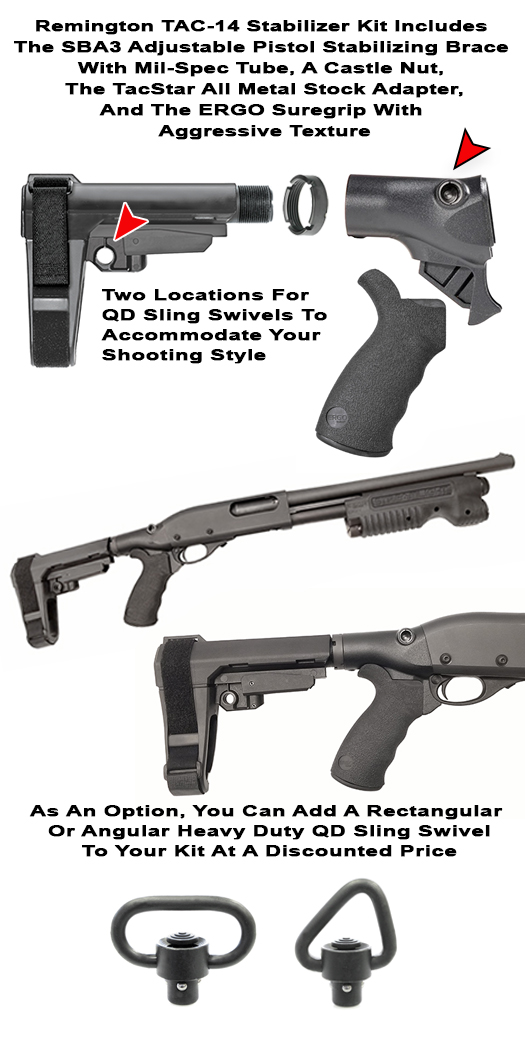 Heads Up! If you've already ordered a brace kit from us, you might recall the SB Tactical brace arriving in a fancy factory box. We've now arranged to purchase these components in bulk, allowing GG&G to ship them to you in a smaller box, with FREE 2-DAY FEDEX SHIPPING! Same product. Same factory instructions. Same quality. Now in your hands faster!
Don't Miss Our Other American Made Remington TAC-14 Accessories And Related Products! Check Them Out Here!
Remington TAC-14 Brace Kit:
GG&G has selected the most desirable and strongest components to upgrade your Remington TAC-14. From the most durable brace adapter available, to the softest and most comfortable grip on the market, this Remington TAC-14 Brace Kit will allow for the installation of the coveted SB Tactical SBA3 stabilizing brace. The SBA3 gives the shooter the ability to quickly adjust the brace's length, on the fly, for rapid deployment.
The GG&G TAC-14 Brace Kit only adds an additional 4.75 inches to the length of the TAC-14 Shotgun when collapsed.
ATF has determined that the Pistol Stabilizing Brace if used as designed, is legal to purchase, legal to own, legal to install and legal to use. Furthermore the ATF has determined that attaching a pistol stabilizing brace to a firearm does not alter the classification of the firearm or subject the firearm to NFA control.
To review the ATF letters regarding the SB Tactical Brace Click Here For ATF Letter One, Here For Three Page ATF Letter.
Buyer Assumes responsibility - Check all your applicable laws for legality
Remington TAC-14 Brace Kit Component Specifications:
TacStar Stabilizing Brace Adapter:
Sturdy die-cast metal construction for strength. The additional weight also helps reduce felt recoil.
Designed with the proper drop for bead or ghost ring sights.
QD sling attachment ports on both sides.
Fits 12ga Remington TAC-14 Shotguns.
Finish: Durable Matte Black Powder Coat Finish.
Weight: 11 ozs.
ERGO Suregrip:
Overmolded, textured rubber pistol grip for improved weapons control.
The overmolded grip reduces hand fatigue when shooting buckshot or heavy loads.
Integral beavertail extension and finger grooves help ensure a positive and comfortable hand position.
Virtually impervious to solvents and oils.
Finish: Matte Black Rubber
Weight: 3 ozs.
SB Tactical SBA3 Stabilizing Brace:
On the fly five position adjustability for rapid deployment.
Built in arm cuff with stabilizing strap.
Minimalist design with integral ambidextrous QD sling ports on both sides.
Includes a 7075 Mil-Spec receiver extension brace tube. (GG&G includes a Mil-Spec castle nut for secure installation)
Finish: Matte Black Plastic.
Receiver Brace Tube Finish: Matte Black per Mil-Spec.
Weight: 6.75 ozs.



Google Base Product Name:
Remington TAC-14Stabilizing Brace Kit
ONLY 7 TOTAL AVAILABLE - ORDER NOW!!
THIS STABILIZER BRACE KIT IS MANUFACTURED SPECIFICALLY FOR THE 12GA REMINGTON TAC-14 SHOTGUN.
As A Promotion, The Heavy Duty QD Sling Swivels Have Been Discounted From The Normal Price Of $13.10 To $11.75 When You Purchase Them With The TAC-14 Stabilizer Kit. Saving Money Is Always The Right Choice!