Specter Military Operations On Urbanized Terrain (MOUT) Sling
With MASH Hook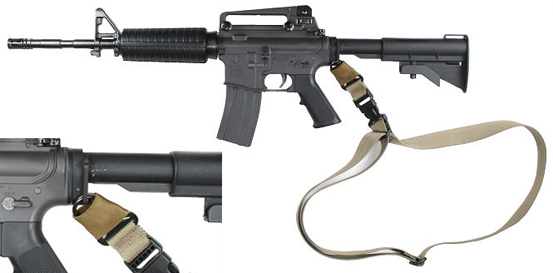 Specter Military Operations On Urbanized Terrain (MOUT) Sling With MASH Hook
The Specter Gear 581 MOUT Sling was designed with direct input from US Military troops returning from MOUT operations in Afghanistan and Iraq. Designed specifically for Military Operations on Urbanized Terrain (MOUT) this sling offers some serious advantages that are equally useful to law enforcement tactical units, armed citizens and practical shooting competitors.
The MOUT Sling excels in the urban dynamic entry role. Used on a weapon with a GG&G Receiver End Plate, the body loop secures the sling to a single mounting point. This arrangement allows the operator to simply arc the buttstock over the sling for an easily accomplished cross shoulder transition. Should a secondary weapon transition be required the weapon drops naturally to the offside, muzzle down, clearing a path to the sidearm and allowing an unobstructed secondary weapon transition.
The 581 MOUT Sling features a 1.25" webbing tab that utilizes a Specter Gear Steel Mash Hook Clip to allow for attachment to a wider variety of weapons using a Quick Clip format. The Mash Hook Clip is attached to the male portion of a 1.25" side release buckle. The female portion of the side release buckle is permanently attached to the sling itself. With the male portion of the side release buckle; including the Mash Hook Clip, attached to the weapon and the female portion attached to the sling, the sling remains wrapped around the operator's body when the release buckle is disengaged. This is the key feature of this design. If it becomes necessary to unhook the weapon from your body, such as when firing from an unconventional shooting position outside of the capabilities of the sling or something as simple, yet hazardous, as mounting/dismounting a vehicle, there isn't 4 feet of webbing trailing from the weapon. This allows the operator a much greater degree of versatility and safety.
Another important benefit of this design is the ability to wear the sling at all times, without necessarily having the weapon attached. This allows operators to quickly and efficiently lock the weapon onto the sling when deploying on alerts, without having to take any extra time to sling up and adjust. Just grab and go, and lock in when you have the time to do so.
This is also a very useful feature for competitive practical shooters. When coming onto, or off of, the firing line, the weapon can be quickly and safely locked in, or disengaged without any wasted time or effort in adjusting the sling. Additionally, with spare buckle assemblies attached to several different weapons, you're guaranteed to have consistent sling fit with each weapon, since only one sling is involved.
The 581 MOUT Sling is constructed from the same 1.25" webbing that Specter uses with their CQB and SOP Slings. The MOUT Sling is an ambidextrous design. Therefore, no left or right hand versions are required. These slings are available in Black and Coyote Tan.
Google Base Product Name:
Specter Military Operations On Urbanized Terrain (MOUT) Sling <br/>With MASH Hook