Remington 1100/1187 Sling And Flashlight Combo Mount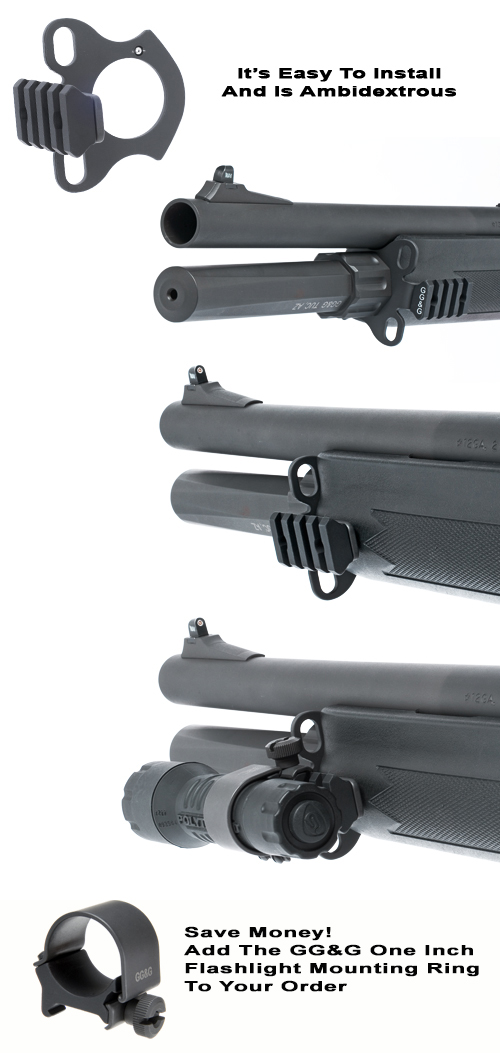 Flashlight And Sling Mount For The Remington 1100/1187
The unique design of the GG&G Remington 1100/1187 Sling And Flashlight Combo Mount provides an easy way to mount a tactical flashlight without interfering with the front sling attachment point.

Flashlight And Sling Mount For The Remington 1100/1187 Specifications:
Installs easily.
Perfect for mounting a tactical flashlight to your Remington 1100/1187 shotgun.
The looped sling attachments accept HK style snap hook or MASH hook sling attachments.
Ambidextrous.
Manufactured with a stainless steel ball bearing detent to secure the unit behind the end cap of the magazine tube.
The MIL-STD-1913 accessory rail is positioned facing rearward.
All edges are smoothed and rounded for the shooter's safety.
Material: Manufactured from bullet proof AS-35 Geneva steel and 6061-T6 billet aluminum.
Finish:Steel components are manganese phosphated in a non-reflective combat finish per Mil-Spec.
Finish: Aluminum components are Type III hard coat anodized per Mil-Spec.
Length: Accessory rail measures 1 3/4" long.
Weight: 1.7 oz.
Warranty: Lifetime.
Made in America By Men And Women Proud To Be Americans!

If you need a flashlight for your shotgun, check out the Tactical Flashlights and Mounting Rings Here.


Easy Way To Mount A Sling And Flashlight To Your 12ga Remington 1100/1187-Accepts Snap Clips Or Mash Hooks