Quick Detach Scope Mounting Base With Integral 30mm Scope Rings
Save 10%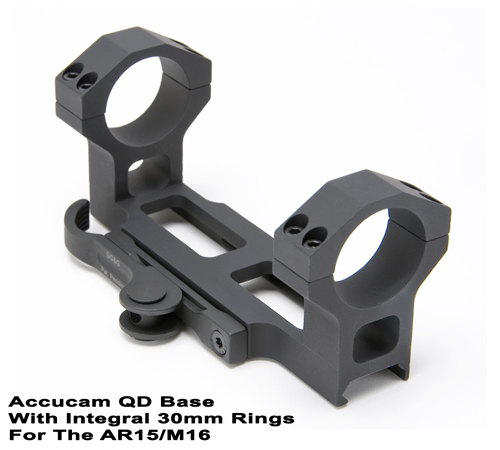 Quick Detach Scope Mounting Base With Integral 30mm Scope Rings
With the development of our proprietary patented Accucam Quick Detach Locking Lever System, we are now able to fill many Quick Detach mounting requirements. with our dovetail scope mount models. The Accucam QD Integral Ring Base is available in two different heights to accommodate proper cheek welds. One is specifically for the AR15/M16 weapon system as shown here, and one specifically for bolt guns.
The integral rings on the Accucam QD Integral Ring Base for the AR are spaced at 4.400 inches center to center. The height from the top of the dovetail to the centerline of the ring is 1.460 inches.
This integral ring scope mount is designed and manufactured to meet the rigors of combat and professional use, but is not recommended for .50 BMG or lightweight machineguns. It is manufactured from solid billet 6061 T6 aluminum alloy and have a Type III hard coat anodized matte black mil-spec finish. All edges have been dehorned to protect the operator. The 30mm rings are an integral part of the base, not machined separately and stuck on the base. The ring caps are held solidly in place with four socket head cap screws.
The Accucam QD scope rings provide you with a solid method to quickly install or remove the mounting base from the weapon system. The base can be quickly installed on a dovetail rail in seconds by rotating the Accucam Cam Lever to the locked position. It can then be quickly removed by rotating the Accucam Cam Lever to the unlocked position.
The patented design allows you to adjust the tension to accommodate out of spec or worn MIL-STD-1913 dovetails. In tests, the Accucam Locking Lever System has shown to be repeatable to 1/2 MOA. The unique finger loop design is easily operated, even with a gloved hand and the rounded design is ergonomic and virtually snag proof. The Accucam mechanism is manufactured from solid billet 4140 steel and manganese phosphated matte black per mil-spec.
Detachable scope mounts and dovetail mounts are manufactured in the USA at GG&G's Tucson, Arizona factory. Our rifle scope mounts are tested in the field and trusted by military and law enforcement personnel, so you can count on your QD mounting base to work as promised under critical conditions.

California Residents - Important Information Pertaining To Prop 65:
Google Base Product Name:
Accucam Quick Detach Base <br/>With Integral 30mm Scope Rings <br/>For The AR-15/M16
Manufactured Specifically For AR-15 Style Weapons