Flip Up Front Sight For Tactical Forearms
Flip Up Front Sight For Tactical Forearms:
Although the GG&G Flip Up Front Sight For Tactical Forearms was specifically designed to provide the correct sight height when mounted on a tactical forearm, this sight can also be installed on gas blocks that are at the same height as the upper receiver. It is manually operated and provides a locking detent in the upright and down position, versus spring-actuated and provides a smaller overall profile. Because of fewer sub-components, we can offer a better price to our customers.

Flip Up Front Sight For Tactical Forearms Specifications:
Easy installation to common dovetails or MIL-STD-1913 dovetails.
The Flip Up Front Sight For Forearms locks securely in the upright and down positions to aid in preventing the accidental raising or lowering of the sight during tactical operations. After manually deploying the sight, the detent button must be pushed to release the mechanism to lower the sight.
Solid squeeze rail attachment mechanism.
The sight is compatible with all four models of the GG&G manufactured Rear Back Up Iron Sights.
The sight comes with a standard A2 front sight post and is adjustable for elevation. This AR -15 front sight is compatible with A1, A2 and most Tritium front posts.
All edges are smoothed and rounded for the shooter's safety.
Options include the installation of a Trijicon Tritium Green Front Sight post.
Material: Manufactured from tough 6061-T6 billet aluminum.
Finish: Type III hard coat anodized non-reflective matte black per Mil-Spec.
Weight: 1.25 oz.
Warranty: Lifetime.
Made In America By Men And Women Proud To Be Americans!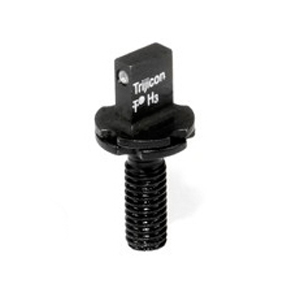 An optional Trijicon green tritium front sight post can be substituted for the standard front sight post to enhance low light shooting capability. The tritium front sight option is the perfect accessory for police and tactical users who may be moving in and out of darkness in real time. If purchased with the Flip Up Front Sight For Tactical Forearms, we will install the Trijicon tritium sight post for free.


Google Base Product Name:
Flip Up Front Sight For Tactical Forearms