Streamlight 88860 PolyTac LED HP Flashlight
Streamlight PolyTac LED HP Tactical Flashlight:
The Streamlight PolyTac LED HP (High Performance) Flashlight is the high-performance model of the PolyTac LED series with a C4 LED and Streamlight engineered reflector for added brightness--275 Lumens bright! The Streamlight Polytac 88860 flashlight operates for 3 continuous hours to the 10% output level on two CR123A lithium batteries. Of course the batteries are included!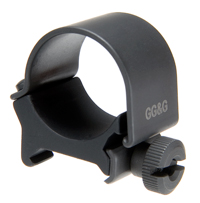 At $48.48 With Free Shipping---It's A Great Value!
You can add the GG&G Flashlight
Mounting Ring for only $12.00 (Normally $17.00) for a value package price of just $60.48!
Streamlight PolyTac LED HP Flashlight Specifications:
We only offer the PolyTac 88860 LED HP in black.
C4® LED technology within a deep reflector provides far-reaching targeting beam with a tight spotlight and optimum peripheral illumination.
TEN-TAP® Programming: Choice of three operating modes:
High for a super-bright, far-reaching beam: 275 lumens; 19,000 candela; 275m beam distance; runs 3 hours.
Low for when less light is needed and for longer run times: 14 lumens; 1,000 candela; runs 56 hours
Strobe runs 5.5 hours
Powered by two 3-volt CR123A lithium batteries w/ 10-year storage life, C4 LED technology, impervious to shock with a 50,000 hour lifetime.
Up to 19,000 candela (Peak Beam Intensity) and 275 lumens measured system output.
Deep reflector provides 275m far-reaching beam. with a tight spotlight and optimum peripheral illumination. Ideal for lighting the way to the end of a dark alley, down a wooded path, inspecting utility lines from the ground, or search and rescue missions
The Streamlight PolyTac LED HP Flashlight Runs 3 hours to the 10% output level.
Solid-State power regulation that provides maximum light output throughout battery life.
The PolyTac LED 88860 Flashlight is manufactured from high impact super tough nylon polymer.
Unbreakable polycarbonate lens with scratch-resistant coating.
IPX7 rated design; waterproof to 1 meter for 30 minutes.
Tail cap push button provides one handed momentary or constant "on" operation.
Head: 1.68" Body: 1.00" Length: 5.90".
Weight: 5.2 oz.
Color: Black.
Limited Lifetime Streamlight PolyTac Warranty.
Google Base Product Name:
Streamlight PolyTac LED HP Flashlight
The PolyTac LED HP High Performance Flashlight Will "Light Em Up" On And Off Your Weapon