Mini-14 Scope Mounts And Ruger Mini-30 Scope Mounts-Picatinny Rail
Don't Miss Our Other American Made Ruger Mini -14 & Mini-30 Accessories And Related Products! Check Them Out Here!
Mini-14 Scope Mount And Mini-30 Scope Mount:
The Mini-14 and Mini-30 Ranch Rifles has been in service for over 20 years, and is an excellent all around carbine. Over the past ten years our customers have found it to be suitable for tactical applications and have repeatedly asked us to manufacture a scope mount for this terrific carbine. We manufacture two. The MIL-STD-1913 version and one specifically manufactured for mini Red Dot Optics. The GG&G Mini-14/Mini-30 MIL-STD-1913 Model provides a 5.7 inch Picatinny Rail to accommodate conventional optics.

Mini-14, Mini-30 Ranch Rifle Scope Mounts-Picatinny Rail Version Specifications:
Will fit all Mini-14 and Mini-30 RANCH Rifle models.
No gunsmithing required.
MIL-STD-1913 dovetail rail offers a low profile mounting platform for red dot optics or conventional scope and ring combinations.
Places the optic forward for long eye relief and quick target acquisition.
Rail machined on the bottom for unimpeded cartridge ejection.
Design keeps optic close to bore and low for a good cheek weld.
Installation does not require removal of the rear iron sight.
Mounting rail has been smoothed and rounded for shooters comfort and safety.
Material: Precision machined from tough 6061-T6 billet aluminum.
Finish-Matte Black:Type III hard coat anodized in a non-reflective matte black finish per Mil-Spec.
Finish-Non-Glare Silver: Anodized in a non-glare silver finish to match your stainless steel receiver.
Length: 5.7"
Weight: 1.9 oz.
Warranty: Lifetime.
Made In America By Men And Women Proud To Be Americans!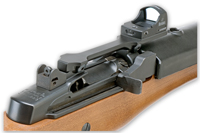 Check Out Our Special Combo Sales: Purchase The GG&G Mini Red Dot Mount And A FastFire III Mini Red Dot Sight For Only $272.95 With Free Shipping.


Google Base Product Name:
Ruger Mini-14 & Mini-30 Ranch Rifle Scope Mounts
One In Matte Black, And One In Non-Glare Silver.
SAVE 10%! Grab A Chamber Cleaning Tool And Add It To Your Scope Mount Order - SAVE Money!