PVS-14 Night Vision
Night Enforcer
"Good To Go" Package
Our Package Includes Exelis Generation 3 PINNACLE Thin Filmed Monocular Night Vision Device, GG&G QD Multi-Flex Mount,
Hard Protective Case And Free Shipping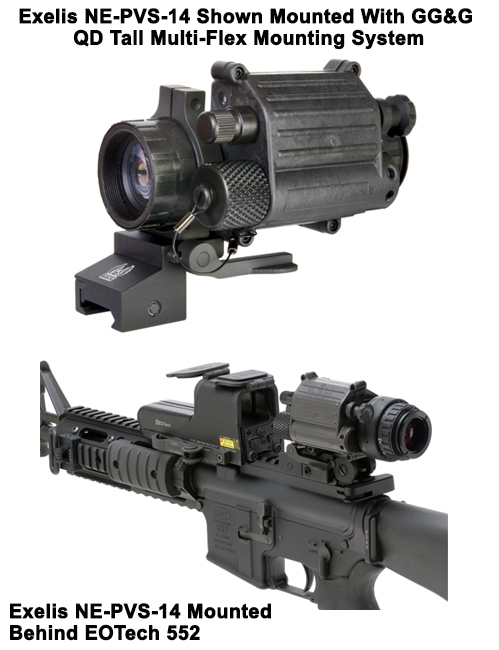 Exelis PVS-14 Night Vision Monocular:
IMPORTANT PRODUCT AND PRICING INFORMATION:
We always try to offer our customers competitive pricing on our optics packages. Unfortunatley our "out the door price" on the Exelis NEPVS-14 "Good To Go Package" is below the Exelis MAP (Minimum Advertised Pricing) policy. We have been ordered by the powers to be at Exelis not to publish or advertise our low price or we risk not being able to sell Exelis products to our customers. Therefore, in order to receive the most current special pricing, we encourage your to call one of our Product Specialists at 800-380-2540 for the best night vision package price going. We apologize for any inconvenience, but don't let a short free phone call stop you from getting the best night vision bargain available.
These are Exelis (Formally ITT) NEPVS-14 monoculars with the standard Exelis factory warranty. These are not seconds, refurbished or used units.

Handheld, helmet/head-mounted, weapons mounted, and camera adaptable, the Exelis NE-PVS-14's versatility will increase your situational awareness, survivability, and operational capabilities. The Exelis Night Enforcer® PVS-14 is equipped with Exelis' Gen 3 Pinnacle® thin-filmed tube technology. This enhanced image intensifying tube improves clarity and resolution, and allows for a seamless transition while operating in any environment. The Night Enforcer PVS-14 features an autogated tube that reacts and automatically adjusts to varying light levels, a variable gain knob to manually adjust the image brightness, as well as a built in infrared (IR) illuminator to provide additional light in extreme low-light/no-light environments.
Payment with certified funds only. Call 800-380-2540 to place your order. Export of this product is strictly prohibited by the U.S. Department of State in accordance with guidelines of "International Traffic in ARMS Regulations (ITAR)" Per Title 22, Code of Federal Regulations, Part 120-130.
Important Considerations: A few internet companies are selling a limited quantity of AN/PVS-14 Night Vision Monoculars. Although "AN" designates that the device is a military grade unit, keep in mind the following facts. The photocathode tube is the "heart" of the night vision device. These tubes have a useful life of about 10 years. Prior to purchasing a military grade device, it would be a good idea to verfify the build date of the device and the length of the manufacturers factory warranty, if any. Also inquire as to when the warranty begins; the build date or the sales date? If the build date is a year or longer, you may want to think through the purchase process a bit more carefully. If the warranty is a two year warranty and it starts as of the build date, and the build date is a year ago, you the buyer only have a 1 year warranty and not a two year warranty. Also keep in mind that extreme temperatures, highs and lows, can negatively affect the life of the photocathode tube, even when in storage. Even though a device may be new, it is always wise to ask how a unit was stored for the first year after completion.
Quick Detach-Multi Flex Weapons Mount - Your choice of either the low or tall GG&G QD Multi-Flex Mount.
Hard Case Molded To Fit Exelis PVS-14
System Soft Carrying Case w/ Shoulder Strap – stores the NE-PVS-14 and all included accessories.

Unit Soft Carrying Case – stores the NE-PVS-14.

Eye Cup – prevents light splash on the users face while using the Night Enforcer PVS-14.

Daylight Filter – filters excessive light and protects the objective lens.

Diopter Lens Cap – protects the diopter lens.

Sacrificial Window – Shields the Front objective optic from sand, air, particles, or anything that may scratch the the lens.

Demist Shield – snaps onto the eyepiece to prevent condensation from forming on the optics
Lens Paper – Used to clean the objective lens and eyepiece glass surfaces.

Helmet Mount/Head Mount Adapter (J-arm) – Threads onto the NE-PVS-14 and allows the system to be mounted to a helmet or head mount.

Head Mount Assembly ("Skull Crusher") - Allows for hands-free operation of the NE-PVS-14
Brow Pads (S, M, L) – changeable pad for secure head mount fit.

Data Record – Exelis factory issued intensifier tube Data Record ("Birth Certificate" of the Night Enforcer system).
Operator's Manual – instructinoal users's guide.

Batteries – Two AA batteries
Generation: 3 US Pinnacle
Resolution: 64 lp/mm (Min)
Gate: Auto-Gated
Film: Thin Filmed
Magnification: 1x
Field of View: 40º
Objective Lens: f/1.2
Diopter Adjustment: +4 to -6
Range of Focus: 9.8″ to infinity
Battery Type: 1 AA
Battery Life: 40 Hours
Weight: 12.4 oz (monocular only)
Dimensions: 4.5"x 2" x 2.25"
Warranty: 5 years (tube), 3 years (system)
Warranty On GG&G Products: Lifetime
ITT PINNACLE Image Intensifier Tube - Thin-Filmed/Auto-Gated
High resolution 64 lp/mm (Typ), high gain, and high photoresponse in visible and near infrared
Variable Gain Control for enhanced performance in altering light conditions
Multifunctional: Hand-held, head-mounted, helmet-mounted, and weapons mounted
Camera and video adaptable