M14/M1A Chamber
Cleaning Tool
We Have Improved This No Hassle Tool
For Cleaning The Chamber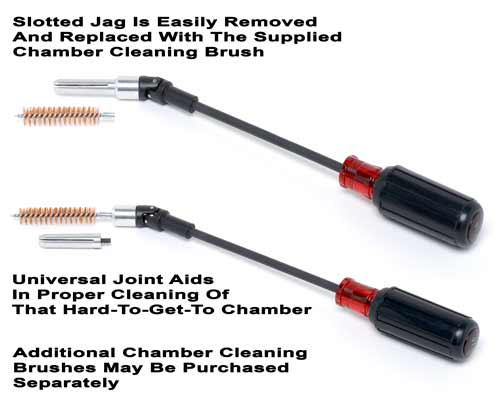 M14/M1A Chamber Cleaning Tool Overview
You know that it is darn near impossible to properly clean the M1A or M14 chamber. Over two years ago we came up with a simple and inexpensive way to keep that all important area clean, the M14/M1A Chamber Cleaning Tool. We have now improved it by giving you the option to quickly remove the cleaning patch jag and install a chamber cleaning brush that we have included. The rugged poly universal joint allows you the ability to easily get into the proper area for thorough chamber cleaning. All parts that come in contact with the chamber are manufactured from non-marring material. When you are ready for a new chamber cleaning brush we are now selling them separately.
The jag is precision machined from 6061 T6 aluminum and slotted 2" inches deep to accept a cleaning patch. The chamber brush is 3" long, .490 in diameter and manufactured from phosphor bronze. The shaft of the Chamber Cleaning Tool is steel with an ergonomic rubber handle. The overall length of the rifle chamber cleaning tool is approximately 15.00 inches.
Have an M1 Garand? Check Out that Chamber Cleaning Tool too.

M14/M1A Chamber Cleaning Tool