HK USP Flashlight Mounts
Full Size & Compact
Accommodates STREAMLIGHT TLR-1/2 And ITI M3/M6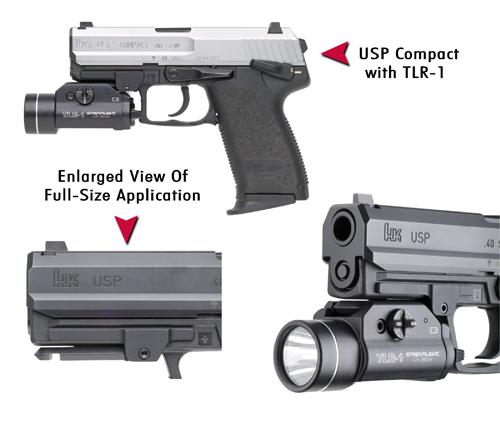 HK USP Flashlight Mount
There is little doubt that weapon mounted tactical flashlights are an all important accessory for urban combat. GG&G manufactures over 20 different tactical flashlight adapters and mounts for various weapon systems including the GG&G USP adapter. There is also little doubt that the HK USP handgun is one of the ten best handguns manufactured. Unfortunately, HK chose to manufacture the dust cover integral mounting rail to only accept the URL flashlight. Besides being very expensive, large and heavy, the URL lacks the flexibility to be mounted to other weapon systems. GG&G has engineered a HK compact flashlight mounting rail adapter for Streamlight TLR-1/2 AND ITI M3/M6 flashlights.

HK USP Flashlight Mount Specifications:
Easily installed.
Dovetail mount for light machined to Glock dovetail specs.
Fits Streamlight TLR-1, TLR-2 and L3 / Insight M3 and M6.
Fits tightly to the USP trigger guard allowing for the rear rocker switches to be activated by the fire control finger or thumb of the off hand.
Three piece, lightweight adapters easily clamp onto the existing USP light rails.
The rail fits tight enough to retain zero on laser sights.
Materials: Manufactured from solid billet 6061-T6 aircraft grade aluminum.
Finish: Type III hard coat anodized matte black per Mil-Spec.
Weight: Full Size: .70 oz.
Compact: .65 oz.
Warranty: Lifetime.
Made In America By Men And Women Proud To Be Americans.

HK USP Flashlight Mounts<br/>Full Size & Compact