EOTech Scope Lens Covers
For The 511, 512, 551 And 552
You Have A Choice Of Four Different Lens Cover Options
And A Zombie Killer Hood & Lens Cover Combo Package
NSN-585 501 620 915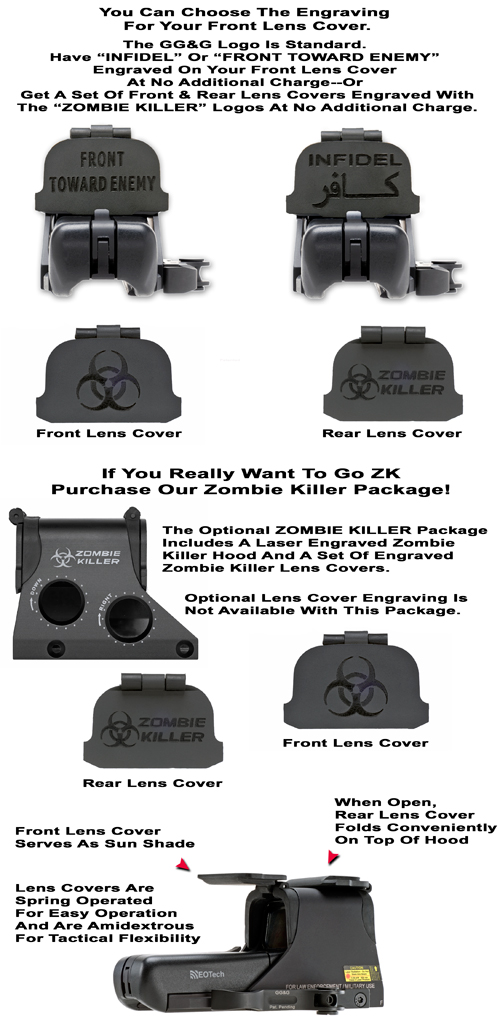 EOTech Lens Covers: They Fit The 511, 512, 551 And 552
The GG&G EOTech Lens Covers fit between the EOTech hood and the body of the EOTech housing. They are spring operated so that once pressure is applied to release them from the closed position, they spring open. The rear cover lays across the top, so as not to interfere with the field of view. The front cover opens and serves as a sun shield. However, if heavy brush etc. is encountered, the front lens will fold back so that it is not damaged. Because of the contours of the EOTech housing, these rifle scope lens covers are not 100% waterproof, but they do prevent most dust, debris, rain and snow from accumulating on the lenses. Law Enforcement and Miliitary Orders for GGG-1275 please reference NSN-585 501 620 915.
EOTech Lens Covers Specifications:
Installs easily with provided tool.
No alteration needed to optic.
Aids in protecting the optic's lenses.
Spring loaded lens covers are easily operated.
Front lens cover opens to serve as a sun shade.
Front lens cover can be folded to lay on top of folded rear cover.
Rear lens cover folds flat on top of the protective hood.
Ambidextrous activation tabs on front and rear cover offer tactical flexibility.
5 different engraving options available.
Weight: Less than 1.0 oz.
Warranty: Lifetime.
Made In America By Men And Women Proud To Be Americans!
Have Some Fun-especially you ZOMBIE KILLERS! We are now offering an optional ZOMBIE KILLER Hood & Lens Cover set for an additional $20.00, or you can just get the ZOMBIE KILLER Lens Cover set at no additional charge. We of course are still offering "FRONT TOWARD ENEMY" or "INFIDEL" engraved on the front lens cover at no additional charge.

EOTech Scope Lens Covers <br/>For The 511, 512, 551 And 552