B-Comp 30mm Ring System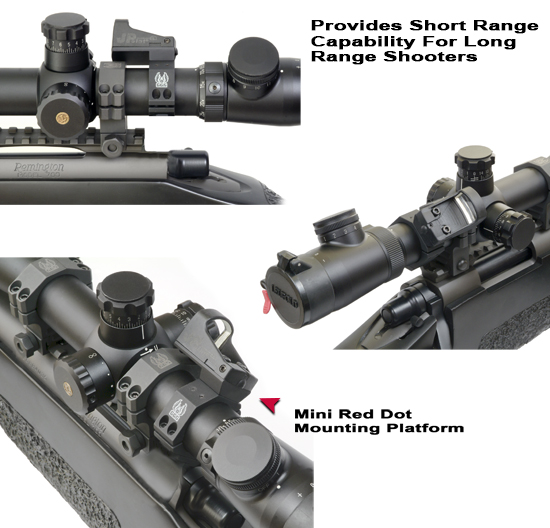 B-Comp 30mm Ring System:
The B-COMP 30mm mounting system was developed to fill a need expressed to us by long range tactical shooters. Although positioned for a long range engagement, the shooter may encounter short range targets requiring life saving fast action.
The B-COMP 30mm Ring System provides a lightweight scope ring that includes a removable and ambidextrous red dot mounting platform. The mounting platform will accommodate the light weight mini-red dot scopes like the JPoint, Doctor, Burris FastFire II and III, Leupold Delta Point (Non-Pro Model), the Trijicon Red Dot (non-RMR), and Vortex Venom and Vortex Viper.

Mounted at 45 degrees to the elevation turret, the platform allows the mini red dot to be positioned in such a way that the shooter needs only to slightly roll the rifle to acquire a close range target. To accommodate the shooters preferences and scope ergonomics, the B-COMP 30mm Ring can be mounted behind or forward of the turrets.
All components of these red dot scope mounts are manufactured from 6061-T6 aluminum alloy and Type III hard anodized matte black per mil-spec. As with all GG&G tactical accessories, the parts of the red dot mount have been dehorned for the shooters safety.

Google Base Product Name:
B-Comp 30mm Ring System
Provides a Mini Red Dot Mounting Platform for your Long Range Scope