40mm Grenade Salt & Pepper Shaker Sets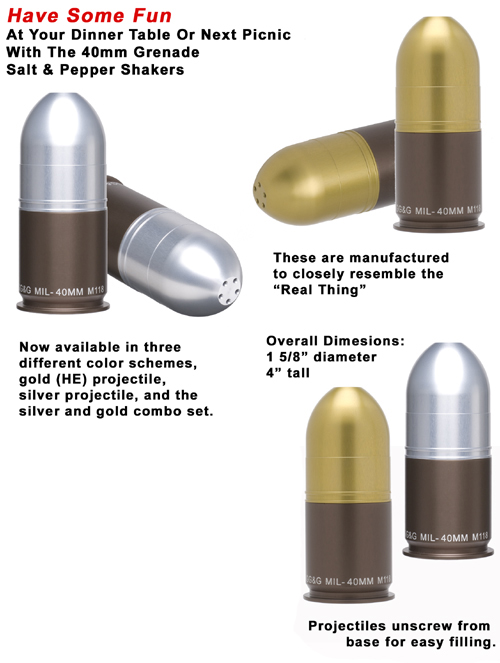 40mm Grenade Salt & Pepper Shakers:
Our New Products Team is always looking for innovative ways to offer our customers not only great tactical accessories but some fun stuff like our Claymore Mine Trailer Hitch Cover and Claymore Mine Desk Accessory.
One of their creations designed to peg the fun meter is the 40mm Grenade Salt & Pepper Shakers. They are manufactured from solid billet 6061 T-6 aluminum and anodized in the colors shown in the above images. They are manufactured to closely replicate the dimensions of the original 40mm grenade. The tip of the projectiles are engraved with an "S" and "P" to easily identify the contents. The projectiles unscrew for easy filling.
A terrific addition to your arsenal of "Fun Stuff"!
Although the finish is rugged, to preserve the luminescence and overall great appearance, we recommend that they be hand washed with mild detergent when they need cleaning.

Google Base Product Name:
40mm Grenade Salt & Pepper <br/>Shaker Sets
Shake Up The Family At Your Next Picnic!!!