Save Over 25% With Free Shipping
Pistol Peep Door Viewers
Limited Quantity-The Mail Man May Freak,
But Your Friends Will Think It's Cool!
Two Models To Choose From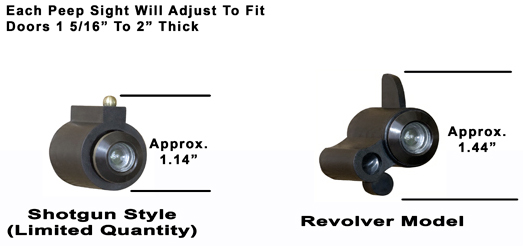 LIMITED QUANTITY: Revolver: 5 Shotgun: 3
Makes A Great Christmas Gift For Your "Gun Guy" Friend!

Pistol Peep Door Viewer
We don't manufacture these neat door viewers, but we think they fit nicely with The GG&G Fun Stuff For Shooters line up, and it's American Made which is always a good thing.
These easy to install Pro 2nd Amendment door viewers, are manufactured from black impact resistant plastic. The Pistol Peeps stick out from the face of the door about 1 1/4". They adjust to fit doors from 1-5/16" to 2" thick, and if you already have a peep viewer in your door, these should fit right into the 1/2" hole that's already there. (Most door peeps are installed in 1/2" holes. Check yours before ordering to make sure) The Pistol Peep Door Viewers include a glass viewer with antiqued brass surround metal insertion screw. They all weigh about 2.5 ounces and closely resemble the gun they are mimicking.
Check out other Fun Stuff For Shooters Here.
Have Some Fun--Order Yours Today!

Pistol Peep Door Viewers