Mossberg 500/590
Forearm Flashlight Mount
Light Up The Intruder With Our Mossberg Shotgun Flashlight Mount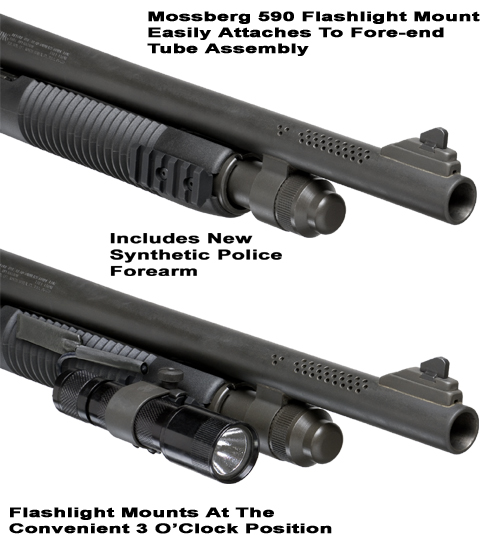 Mossberg 500 and 590 shooters have requested that we manufacture the same flashlight set up for them that we do for the 870, so here it is--The New Mossberg 500 and 590 Forearm Flashlight Mount, another terrific shotgun accessory from GG&G.
The GG&G 500 and 590 Flashlight Mount kit includes a unique mounting bracket that securely attaches to the factory forearm slide arm tube using the factory forearm retaining nut. The kit also includes a new factory Mossberg Police synthetic forearm precision cut to clear the 500 and 590 flashlight mounting bracket, a MIL-STD-1913 rail and an assembly tool. To install, simply remove the factory forearm from the slide assembly and install the new forearm, mounting bracket and MIL-STD-1913 rail. A flashlight mounting ring like the GG&G Standard Flashlight Ring or the G2 Mounting Ring manufactured specifically for the Surefire G2 and G3 flashlight can be used to mount the flashlight, or the end user can opt to use a flashlight with an integral mount like the Streamlight TLR-1. As shown in the above photos, the rail and flashlight are located at the three o' clock position, giving strong right shooters the tactical advantage at night.
The Mossberg 500 and 590 flashlight mounting bracket is precision machined from rugged 4140 chrome moly steel and manganese phosphated matte black per mil-spec. The MIL-STD-1913 rail is CNC machined from 6061 T6 aircraft grade billet aluminum alloy and Type III hard anodized matte black per mil-spec. As you can see, the 500 and 590 Forearm Flashlight Mount has been designed for the rigors associated with professional use.
IMPORTANT TIP: We suggest using an LED flashlight bulb to reduce the possibility of bulb failure.
Mossberg 500/590 <BR/> Forearm Flashlight Mount