Quick Detach SLiC Thing QD
Sling And Light Combo Mount
Features The Limited Rotation Heavy Duty QD Swivel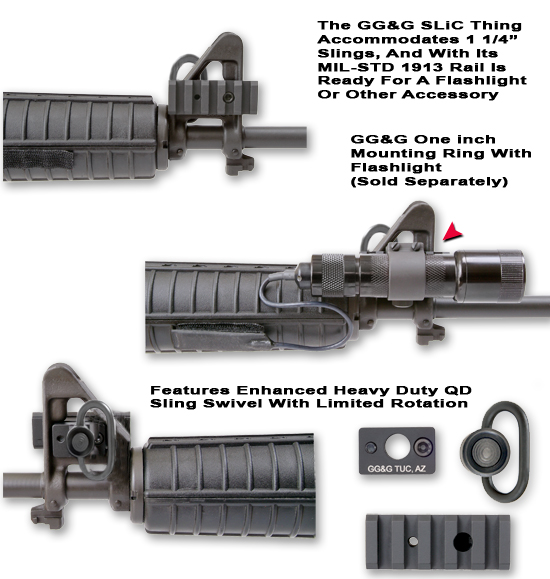 The Quick Detach SLiC Thing (Sling And Light Combo) provides the end user with a lightweight, sturdy, versatile and inexpensive tactical light combo mount for attaching a sling on one side of the weapon and a 2 1/8-inch MIL-SPEC-1913 rail to mount accessories such as a tactical gun light, on the other side. The rugged sturdy 1 1/4" Heavy Duty Enhanced QD sling swivel places the sling on the side of the AR-15 and provides the operator with the flexibility to quickly remove the sling to meet certain mission requirements. The tactical light mount positions the light at one o'clock, the location preferred by most experienced operators to maximize the tactical advantage during dynamic room entries. The QD SLiC Thing provides this important position by easily mounting onto the AR15/M16 "A-frame" front sight assembly and is fully ambidextrous.

The Heavy Duty Enhanced QD Sling Swivel, now a standard feature with the Quick Detach SLiC Thing, provides additional benefits like a larger quick detach button for an easier and quicker transition and a thicker wire diameter to provide a more robust sling attachment surface. It is bead blasted and manganese phosphated in a non-reflective matte black mil-spec finish.
The Quick Detach SLiC Thing is manufactured for rugged use from 6061 T6 solid aluminum alloy, and is Type III hard-coat anodized matte black per mil-spec. Robust and rigid, the SLiC Thing is held in place by counter pressure steel socket head cap screws.



Quick Detach SLiC Thing QD<br/> Sling And Light Combo Mount