Ruger Mini-14 & Mini-30 Ranch Rifle Scope Mounts
Mini-14 Ranch Rifle Scope Mount:
The Mini-14 Ranch Rifle has been in service for over 20 years, and is an excellent all around carbine. Over the past ten years our customers have found it to be suitable for tactical applications and have repeatedly asked us to manufacture a scope mount for this terrific carbine. We decided that this was a good time to introduce not one but two a high quality Ruger Mini-14 scope mounts for the Ranch Rifle. We think one of the hottest short range scope set ups for the Ruger is utilizing one of the many mini-red dot scopes in the market place today. So we designed and manufactured a Ruger Mini-14 scope mount specifically to accommodate mini-red dots from Burris, JP and Trijicon, with the exception of the Trijicon RMR model. The low profile design affords a great cheek weld.
These Mini-14 Scope Mounts For Ranch Rifles measure 5.8 inches long, and as can be seen in the photos, place the mini-red dot forward for long eye relief and quick target acquisition. The second Mini-14 scope mount is a MIL-STD-1913 dovetail rail version that also offers a low profile mounting platform for conventional red dot optics or powered scope and ring combinations. The rail is 5.7 inches long to provide ample mounting space. Both rails interface with factory Ranch Rifle integral mounts. Both rails also have relief cuts beneath the rail for unimpeded cartridge ejection.
The mounts are precision machined from rugged 6061-T6 aluminum and Type III hard anodized matte black per mil-spec. All our Mini-14 accessories have been designed and manufactured to meet the rigors associated with professional use.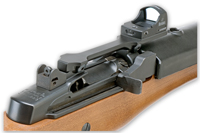 Check Out Our Special Combo Sales: Purchase The GG&G Mini Red Dot Mount And A FastFire III Mini Red Dot Sight For Only $272.95 With Free Shipping.

Google Base Product Name:
Ruger Mini-14 & Mini-30 <br/>Ranch Rifle Scope Mounts
One Manufactured To MIL-STD-1913 Specs And One Specifically For Mini-Red Dots