Free Shipping - Gold & Silver Tip 40mm Grenade Christmas Tree Ornaments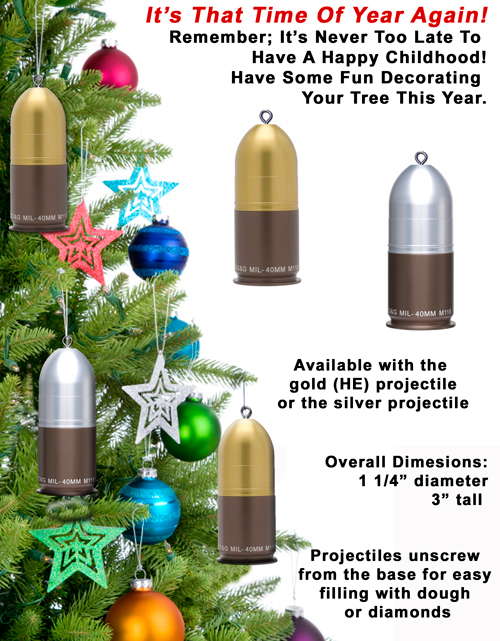 Silver Tipped Are Sold Out! There Are Only A Few Gold Tipped Left!
If The "Add To Cart" Button Is Missing We Are Sold Out.
Yea, we know the 40mm Grenade Christmas Tree Ornaments are not for everyone, but we sold over 250 of these at Christmas last year, so we told our elves in manufacturing to gear up and make them again this year. We know they are not for the "politically correct" and that's what makes it so much fun to hang one prominently and proudly next to some "Minie Mouse" ornament.

This Christmas Season why let the wife and kiddies have all the fun hanging their favorite ornaments, like Barney, Spiderman, soft cuddly little bears, and ornaments shaped like the characters from the Wizard of Oz--Lions and Tigers And Bears--Oh My! AAAGH! In addition to just being cool and a little somewhat radical, our 40mm Christmas Tree Ornaments will repel Zombies this Christmas Season, the others just attract them.

As an added benefit, the projectiles unscrew from the body so that you can surprise your family or compatriots on Christmas Morn with some $$$, gold coins, diamonds or coal.
The 40mm Christmas Tree Ornaments are about 25% smaller and are lighter than our 40mm Grenade Salt & Pepper Shakers. They are manufactured the same as our full size ones--from 6061 T-6 aluminum and anodized in the colors shown above. They include an eyelet at the tip of the projectile for an ornament hanger, which we have included. All you have to do is pop them out of the package and hang them up.
They are a terrific addition to your arsenal of "Fun Stuff"
Of Course They Are made In America By Men And Women Proud To Be Americans, And They All Wish You A Very Merry Christmas!
Check out the rest of our Fun Stuff line up by Clicking Here. They make great Christmas gifts, especially for the "hard to buy for".

Silver Tipped Sold Out!
A Few Gold Tipped Are Left!