Ordnance Bookends
Dress Up That Man Cave!
Not An Interior Decorator? No Problem.
Be An "Interior Destroyer" With Ordnance Bookends
In 40mm, 20mm, And .50 Caliber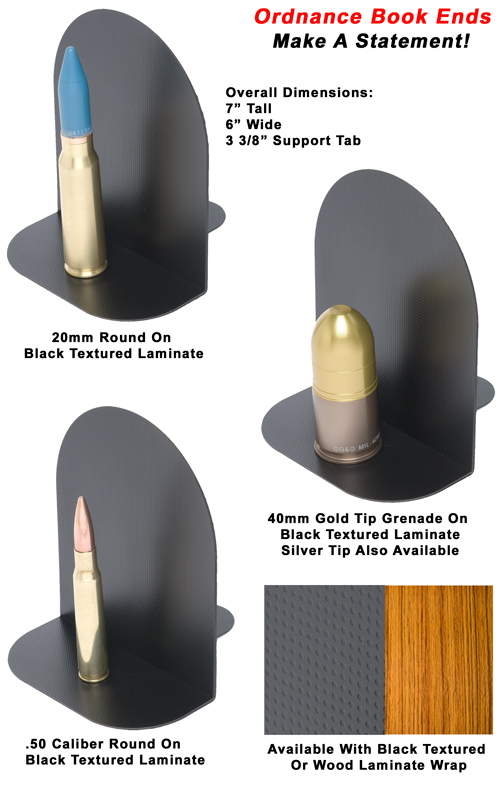 Bookends bring order to your book and magazine shelf and to your bookcase. Unique Bookends do that and more-They Make A Statement. That's why we developed our Ordnance Bookends. Pitch those dull, drab, plain gray/black bookends or the ones with little FOO FOO creatures on them, and Shooter Up!

Each set includes two bookends of the ordinance selected. These Ordinance Bookends will definately add character to your office, study or Man Cave.
Don't forget they make great gifts for that hard to buy-for relative or compatriot.
Ordnance Bookend Specifications:

The bookends are manufactured from steel, powder coated black and then the face and platform are clad in black textured laminate or wood laminate per the above images.


The 20mm and .50 caliber rounds for the bookends are manufactured from once fired brass and new projectiles.

They are attached to the bookend frame with a mechanical fastener.


The brass has been tumbled and polished for a great look and the clear coated to prevent oxidation.

The 40mm grenade replica is

manufactured from 6061 T-6 aluminum to the same size as the real deal.

It is attached to the bookend frame with a mechanical fastener.
Another terrific addition to your arsenal of "Fun Stuff" from GG&G. Check out our other Fun Stuff Here.

Although the finish is rugged, to preserve the luminescence and overall great appearance, we recommend that you use a mild anti dust spray when your bookends need cleaning.

Ordnance Bookends