Bolt On Flip Up Front Sight
Gas Block System
Easy To Install And Rock Solid
Bolt On Flip Up Front Sight Gas Block System
The GG&G Bolt On Flip Up Front Sight Gas Block is a top of the line flip up front sight gas block system that is very easy to install. The Flip Up Front Sight Gas Block is secured in place by a Tri-Point clamping mechanism guaranteeing consistent accuracy and trouble free operation. The sculpted finger groove design is not only ergonomic but allows for quick deployment. Manufactured from 4140 chrome moly billet steel with hardened wear points and finished by a mil-spec manganese phosphate process, this unit is ready for rugged use. As a method of standardization the M16A2 square front post is used, which is fully adjustable for elevation zero. Protective ears are provided for the sight with additional gripping serrations to aid in raising and lowering the sight assembly.
The GG&G Bolt On Flip Up Front Sight Gas Block is equipped with a spring-loaded, positive wedge lock detent system that keeps the front sight in the up position preventing accidental lowering of the unit while maintaining on target repeatability. The clamp on front sight locking system is designed to be operated with the off-hand so that the fire control hand does not need to be removed from the weapons fire control system to deploy or lower the sight. Further, the sight comes equipped with a standard 1 1/4 inch, ambidextrous sling swivel that bolts to the gas block at a low position.
Additionally, there is a provision for the easy attachment of an optional MIL-STD-1913, ambidextrous 1"- inch long dovetail for mounting flashlights, LAMs and other small accessories onto the gas block base.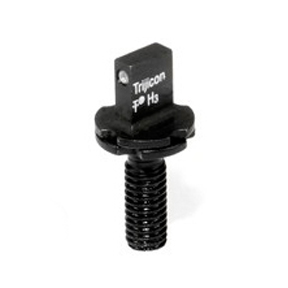 A Trijicon tritium front sight post can also be added to enhance low light shooting capability. The tritium front sight option is the perfect accessory for police and tactical users who may be moving in and out of darkness in real time. If purchased with the Bolt On Flip Up Front Sight, we will install the Trijicon tritium sight post for free.

Bolt On Flip Up Front Sight Gas Block System